For sale; The Celanese House by famed architect Edward Durell Stone is a stunning example of mid-century modern architecture that seamlessly blends form and function. The house features a lattice screen on the facade and glass pyramids on the roof which are prime examples of Stone's design and, true to Stone's principles, the house is substantial, private and comfortable. Built in 1959, the house has been fully renovated, staying true to its original vision.
New Canaan, CT, April 28, 2023 /Realty Wire/ William Raveis Real Estate is proud to announce the listing of "The Celanese House," a stunning mid-century modern home in New Canaan, CT, designed by renowned architect Edward Durell Stone for the Celanese Corporation in 1959.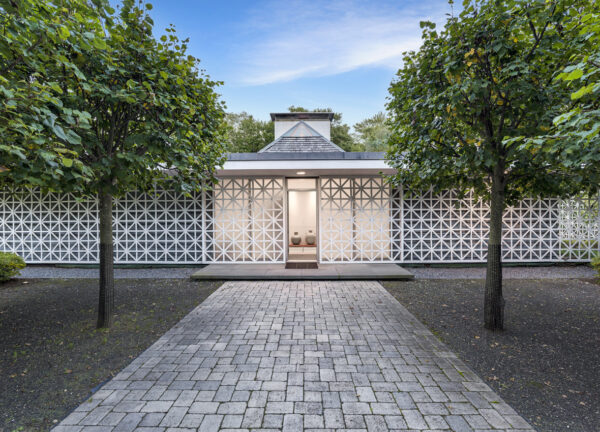 The Celanese House's most distinctive features are its lattice facade, and the array of twelve clear pyramids that point upwards out of the roof. This four bedroom, four-and-a-half bathroom, 4,427 square foot home boasts clean lines, open spaces, a great flow, and an abundance of natural light. The current owner, Joel Disend, recently completed major improvements to both the house and landscaping of the two-acre property, made to enhance the function, aesthetic and efficiency of the interior with a refined sense of order, scale and light.
Approaching its 75th anniversary, The Celanese House is now available for sale at $4,700,000. This is a once-in-a-lifetime opportunity to own one of the most important residences in America.
For more information or to schedule a viewing, please contact Hannelore Kaplan at (914) 450-3880 or Melissa Rwambuya at 917-670-5053.
https://www.raveis.com/mls/170564615/565-oenoke-ridge-new-canaan-ct-06840
William Raveis Real Estate
4 Elm Street
New Canaan, CT 06840
Hannelore Kaplan
(914) 450-3880
Hannelore.Kaplan@Raveis.com
Melissa Rwambuya
(917) 670-5053
Melissa.Rwambuya@Raveis.com
Contact
William Raveis Real Estate
Melissa Rwambuya
917-670-5053
https://www.raveis.com/mls/170564615/565-oenoke-ridge-new-canaan-ct-06840