CHINO HILLS, Calif., May 8, 2023 /Realty Wire/ — California Regional Multiple Listing Service (CRMLS), the nation's largest MLS, announced it has signed an agreement with WellcomeMat, the creators of a video platform for real estate companies and professionals. WellcomeMat's marketing and distribution tools help improve, expand, and analyze real estate video content, keeping data and customizability in the hands of the content owner.
WellcomeMat will bring hosted video support and video analytics to all brokerages and users of CRMLS data. This collaboration will enable 110,000+ users to upload, replace, edit, and distribute listing videos without relying upon a third-party video hosting platform. With WellcomeMat's additional analytic tools and resources, users can improve marketing decisions based on viewer behavior and data.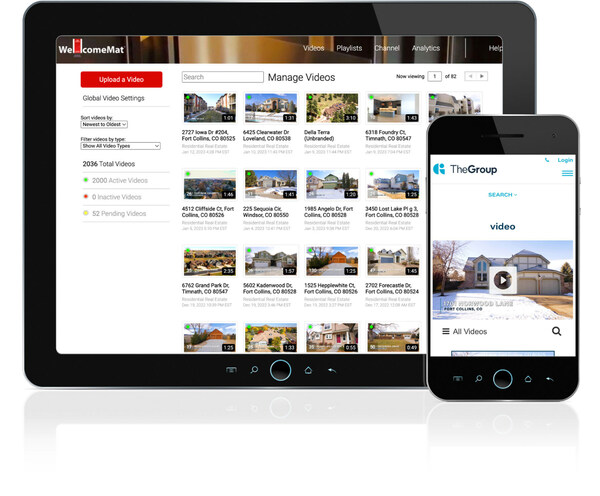 "Videos have become standard web content, and consumers expect to see them on every website and mobile app," said Art Carter, CEO of CRMLS. "It is an integral, organic extension of the MLS's value proposition to help leverage the power of property videos and remove the hassle of third-party video hosting. We look forward to working with WellcomeMat to provide our agents and brokers with easy-to-use video features and valuable data analysis."
The WellcomeMat integration offers a brand-new video toolset for CRMLS users within each of the listing Add/Edit suites they use. The CRMLS Matrix platform will feature this integration first, with CRMLS Paragon and Flexmls to follow suit.
With WellcomeMat, CRMLS users can modify their videos for optimal viewing. The embedded toolset allows users to upload, replace, or deactivate videos. It will also support easy distribution to social media and content channels, with the ability to write unique titles and descriptions for each designated outlet. The "Unbrander" tools allow users to edit out branded portions of the video to maintain MLS compliance, and the ability to add chapters to videos ensures the most important parts of videos can be found, watched, and shared.
"We are honored and humbled to be chosen by CRMLS to place video front and center for real estate agents and consumers in California," said Christian Sterner, co-founder and CEO of WellcomeMat. "Since inception, WellcomeMat has maintained that all rich media can and should be native to every real estate website and mobile application. Through our agreement with CRMLS, we are finally making true video distribution a reality in real estate and, more importantly, our partnership with CRMLS will allow us to illustrate the true ROI of video for the entire industry."
About California Regional Multiple Listing Service (CRMLS)
California Regional MLS is the nation's largest and most recognized subscriber-based MLS, dedicated to servicing more than 110,000 real estate professionals from dozens of Associations, Boards, and MLS organizations. CRMLS is the industry powerhouse and thrives on providing the most relevant products and services to its subscribers. For more information on CRMLS, visit CRMLS.org.
About WellcomeMat
WellcomeMat is maximizing media distribution and consumer reach by providing the largest library of high-quality property videos and patented technologies that help digital marketers, creatives, and developers to build the future of visual search. For more, visit WellcomeMat.com.
Contact:
Art Carter
Art@crmls.org
SOURCE California Regional MLS