LAS VEGAS, May 9, 2023 /Realty Wire/ — Four Seasons, leader in luxury hospitality and branded residential, together with Azure Resorts & Hotels and Luxus Developments, announce a new standalone residential project in Las Vegas that will welcome residents home in 2026.
Four Seasons Private Residences Las Vegas will be set within the MacDonald Highlands community, a private 11-acre (4.5 hectare) oasis in Henderson, Nevada and minutes from the world-class entertainment, fine dining and upscale shopping of Las Vegas. The new project will comprise 171 high-rise residences with panoramic views and six standalone, family-style villas, offering a cosmopolitan lifestyle with contemporary desert design, resort-inspired amenities and fully-serviced luxury living marked by Four Seasons thoughtful and genuine care.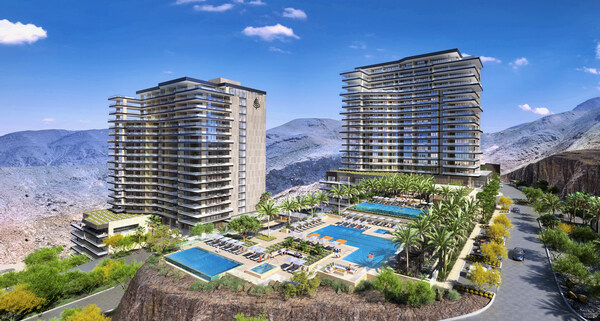 "We are honoured to be partnering with the legendary Four Seasons brand, known for its highly personalized service and ability to create exceptional lifestyle experiences for guests and residents alike. From the moment of arrival, owners will be greeted by elegant décor, unparalleled hospitality, and world-class amenities, attracting buyers who desire a social and active yet private community with exclusively curated experiences at their fingertips," says Jim Reilly, President of Azure Resorts & Hotels.
"Las Vegas has always been synonymous with entertainment and excitement and now it is rapidly evolving and maturing in the quality and sophistication of its product offering. We're excited to introduce a one-of-its-kind offering to the city, bringing an elevated lifestyle experience like never before," adds Jonathan Lawrence, Managing Partner of Luxus Developments.
Leader in branded residential since 1985, Four Seasons continues to expand its global portfolio of luxury homes in the world's most sought-after destinations. The company's growing collection of standalone Private Residences offer unmatched privacy, alongside the renowned personalized service and property management expertise that homeowners can expect when living with Four Seasons.
"Our standalone residential offerings present a unique opportunity to live with Four Seasons in destinations that are appealing to luxury homeowners, outside the walls of our hotels and resorts, while still delivering the exceptional care and service to residents that is core to our brand," says Bart Carnahan, President, Global Business Development and Portfolio Management, Four Seasons Hotels and Resorts. "This new project in Las Vegas is the perfect addition to our standalone portfolio, catering to discerning homeowners in this important destination, and with partners who share our vision for creating an unparalleled luxury lifestyle experience in the market."
About Four Seasons Private Residences Las Vegas
Four Seasons Private Residences Las Vegas will be the first residential tower in Henderson and will be designed by architectural visionaries Wimberly Allison Tong & Goo (WATG). The contemporary residences will range from 2,300 to 7,300 interior square feet (213 to 678 square metres) and 500 to 5,000 exterior square feet (46 to 464 square metres), offering expansive indoor and outdoor living space with sweeping views of the Las Vegas Strip and McCullough mountain range. Residences will feature thoughtful, turnkey touchpoints including semi-private elevators, private garages, and fully-furnished interiors. Wimberly Interiors selected superior designer finishes and fixtures with a rich palette of options, including epicurean kitchens and spa-inspired bathrooms. Each residence will offer customizable terraces equipped with outdoor kitchens, social gathering spaces and dining areas, extending owners' seamless indoor-outdoor living and style.
The new luxury residences will also feature a signature restaurant and wine bar, Noble Heights, for residents and locals to enjoy everyday dining, special occasions and much more right at their doorstep. Curated by hospitality industry veterans Elizabeth Blau and Chef Kim Canteenwalla of Blau + Associates (and Honey Salt and Buddy V's Ristorante in Las Vegas and Crown Block Dallas), Noble Heights will anchor the community with an incomparable culinary offering complemented by unobstructed views, al fresco dining options and a culinary experience featuring ranch, farm and sea-centric cuisine alongside an elevated selection of cocktails.
Led by a Director of Residences and a dedicated Four Seasons team, residents will enjoy a service-rich environment with premier amenities such as private chef services, private wine cellars, multi-level resort-style pools, cabanas, an on-site event lawn, catering services, a pet spa, auto spa, community boardroom, library, screening room, and myriad wellness amenities including a full-service gym and spa with a sauna, steam room, whirlpool, lap pool, multiple private treatment rooms and personal training offerings. Overseeing the complete residential experience as the ongoing property managers, Four Seasons will ensure that residents and their homes are cared for with the same quality and service excellence for which the brand is renowned.
Residents will also have ease of access to surrounding scenic walking and biking trails, two pickleball courts, a virtual golf simulator within the MacDonald Highlands community as well as access to Dragon Ridge Country Club, the private golf, swim and tennis club.
Four Seasons Private Residences Las Vegas is now accepting ownership inquiries, with homes starting from USD 3 million. For more information, visit www.lasvegasprivateresidences.com or contact the Four Seasons Private Residences Las Vegas Real Estate Discovery Studio at info@lasvegasprivateresidences.com | (702) 630-6000.
For residential renderings, visit the Four Seasons Press Room here.
About Azure Resorts & Hotels
Azure Resorts & Hotels is a collective of development, sales and marketing professionals dedicated to maximizing resort and resort residential opportunities. With a history of success in Mexico, Latin America and the Caribbean, Azure works with institutional investors, lenders, and equity stakeholders to formulate and execute strategies that maximize the return on investment across all stages of the development process. Whether for unimproved land or a diverse portfolio, envisioning to execution, our hands-on approach is designed to maximize value and minimize uncertainty and risk for our clients. The Azure Resorts & Hotels team is comprised of seasoned real estate executives, with successful international experience tested through numerous real estate cycles. We utilize our deep industry knowledge, broad range of experience and wealth of multicultural contacts to develop proactive solutions to seize market inefficiencies. For more information, visit www.azureresorts.com.
About Luxus Developments
Luxus Developments, a subsidiary of The Luxus Group, is a boutique real estate investment and development firm focused on ground-up and repositioning opportunities in the hospitality and resort-residential asset classes. Luxus focuses on select domestic and international markets including the Caribbean, Mexico, and the United States. Luxus Developments also operates in Italy, via Luxus Restorations, which restores historical properties into modern resorts and homes. Luxus has cultivated a track record of success by identifying unique opportunities, partnering with local and international talent, and applying institutional quality execution while maintaining a nimble and creative approach. For more information, visit www.luxusdevelopments.com.
About Four Seasons Private Residences
As a long time leader in branded residences, Four Seasons currently operates 53 branded Private Residence properties around the world, with more than 65% of future Four Seasons projects including a residential component.
All Four Seasons residential offerings combine Four Seasons legendary people and service with bespoke hotel and resort-style amenities such as spa services, in-residence dining services, housekeeping, concierge services and many more, creating a seamless experience for residence owners.
About Elizabeth Blau + Associates
Founded in 2002, and led by husband and wife hospitality industry veterans, Elizabeth Blau and Chef Kim Canteenwalla, Blau + Associates, is one of the leading restaurant development and consulting companies in the world. As founder and CEO, Elizabeth Blau is widely credited with transforming Las Vegas into the world-class culinary destination it is today. Blau is recognized a leading industry innovator for transforming iconic properties around the world such as the Rainbow Room at Rockefeller Center and her work creating the restaurant portfolios at both Bellagio and Wynn which forever transformed the food and beverage philosophy of the city. Chef Kim Canteenwalla provides a diverse range of international expertise with more than 30 years of culinary and industry leadership. He has led restaurants and resorts around the world including Singapore, Thailand, Dubai, Bali, Toronto, and Montreal, and is the former Executive Chef for MGM Grand in Las Vegas.
About MacDonald Highlands
Four Seasons Private Residences Las Vegas is located within the esteemed MacDonald Highlands community just outside the buzzing Las Vegas strip. Situated at the foothills of the McCullough Mountains, MacDonald Highlands is a collection of luxury homes and residences with panoramic views of the Las Vegas skyline coupled with upscale amenities and attractions. Four Seasons Private Residences Las Vegas is less than a thirty-minute drive to the Las Vegas city center, and just 10 miles from the city's Harry Reid International Airport (formerly McCarran), making the residences an ideal year-round hub or weekend destination.
Media Contact:
Alix West
C&R PR
alix@candrpr.com
(203) 962-2893
SOURCE Four Seasons Hotels and Resorts